Summer is coming, pizza evenings will be improvised with family and friends to enjoy the beautiful evenings outdoors. What could be better than sharing a good, entirely "homemade" pizza with tomato coulis dough? The pizza maker of "La Part des Autres" reveals his manufacturing secrets to you. Treat yourself…
A recipe for 2 pizzas proposed by the restaurant The Others' Share of Saint-Just-La-Pendue.
Pizza dough (to be made the day before)
500 g of T55 flour,
250ml of water,
Salt,
3 cases of olive oil,
15 g of fresh baker's yeast.
Dissolve the yeast in a little water. Put the flour in a bowl, add salt and oil. Mix then add the water. Mix with a spatula then knead until the dough is smooth and into a ball. Cover and leave to rest at room temperature for about 24 hours until the dough doubles in size.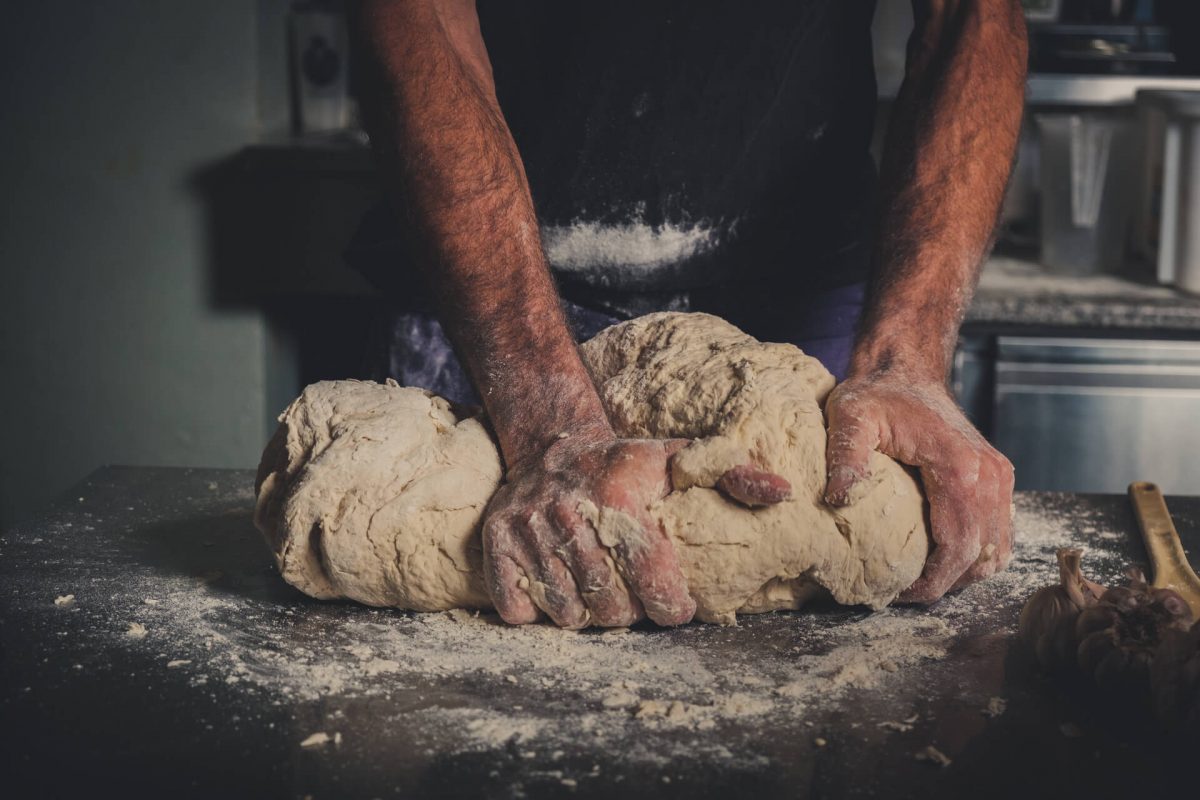 Tomato coulis
1 ladle of crushed tomatoes,
1 clove of garlic,
Salt,
1 case of dry oregano,
1 case of olive oil.
Mince the garlic. Mix the crushed tomatoes with the oregano, olive oil and minced garlic. Season.
Basil pesto creamc
3 beautiful sprigs of fresh basil,
1 clove of garlic,
Olive oil,
Smoked salmon,
1 tsp of pine nuts,
Sel
Finely mix the basil, garlic and pine nuts. Add the olive oil and mix again to obtain a homogeneous mixture. Add fresh cream to your liking. Mixer. Season.
Cooking the asparagus
Wash the asparagus in cold water. Mince a clove of garlic. In a hot skillet, pour the olive oil. Sauté the asparagus over high heat in the hot oil for about a minute. Season and turn off the heat. Deglaze with water, add the garlic and cover immediately. Allow the steam to finish cooking the asparagus.
Pizza topping
1 bunch of ornithogal asparagus from the Pyrenees (wild asparagus),
Salt,
Pepper,
1 ball of buffalo mozzarella,
1 ladle of grated mozzarella (dry mozzarella),
Basil pesto cream,
2 cases of olive oil,
A few slices of Coppa,
20 ml of water.
Cut the dough in half to obtain two pieces of dough. Mold the balls by hand and leave to rest for an hour. Preheat your oven to 280°. Spread flour on the work surface. Flatten your dough with your fingertips then roll it out until you obtain a circle about 30 cm in diameter. Pour a ladleful of tomato coulis into the center of your dough. Spread over the entire surface, leaving a 1cm border. Add the dry mozzarella over the entire surface of the coulis.
Bake until edges of pastry are puffed and golden. Meanwhile, coarsely chop the mozzarella and cut the coppa into shavings. Once cooked, remove the dough from the oven and sprinkle with the pieces of mozzarella di buffala and the asparagus. Bake 30 sec-1 min. Remove the pizza from the oven. Add the basil pesto cream and the coppa shavings. Serve immediately.