Located in the characterful village of St-Jean-St-Maurice-sur-Loire, La Cure, Pôle Métiers d'Art de Roannais Agglomeration has 4 craft workshops that operate as a nursery. They are intended for young arts and crafts companies, for a limited period of time, the time they get started and can set up in their own premises. To date, 4 companies are present and 4 have set up in other places after their visit.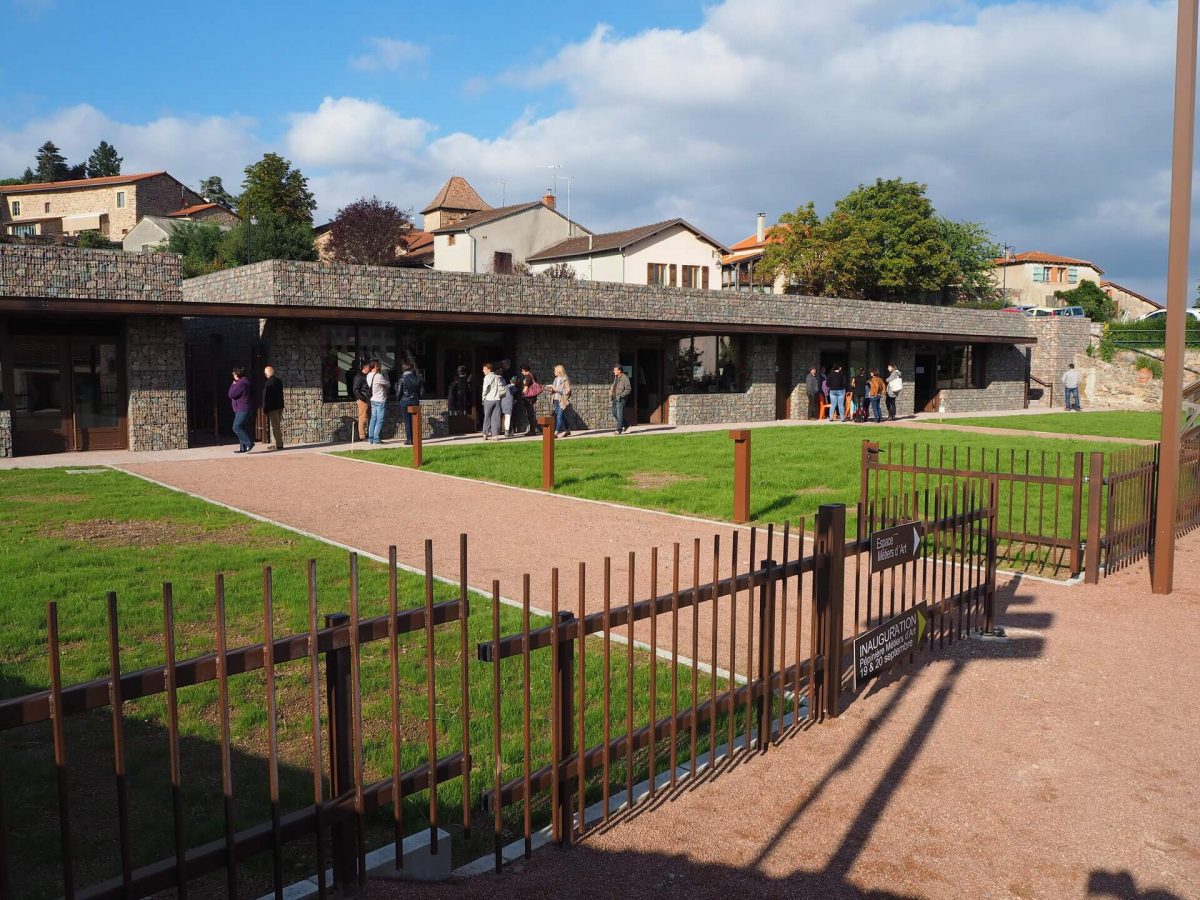 The Cure: 1 place - 4 craftsmen
A nursery where talents flourish. To meet them and discover their work, do not hesitate to contact them! Also find their creations in the Cure boutique.
Antoine Patin
Hell metalwork: Furniture and works of art
L'Enfer offers a range of furniture and metal works of art and also makes to order the piece that will look like you and find its place in your home.
Antoine Patin strives to create by recovering materials that we no longer use. He seeks to "regain orphan wealth, catapulted to the ranks of peelings and to imagine possible combinations around them". Although he mainly works with steel, he sometimes incorporates pieces of reclaimed wood into his creations. He knows how to enhance them and bring them back to life in sleek and contemporary metal structures. Recycle, give life, divert and sublimate, this is the credo of Hell!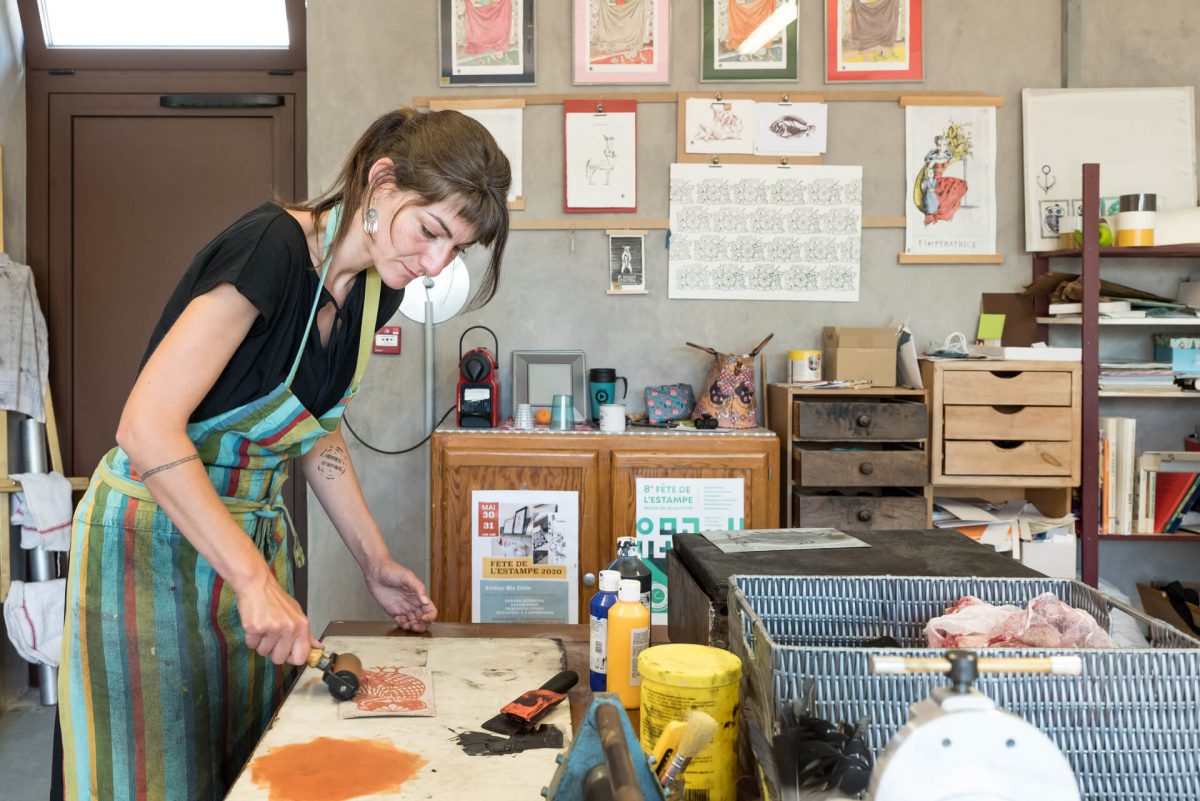 Colette Krieger
Atelier Bis Cotte: Intaglio printing
Colette Krieger is fully involved in printmaking. A technique that combines his passion for art and history, his love of paper, the rigor and finesse of his line, as well as the beauty of printing. She creates prints by the traditional printing technique of intaglio engraving which allows serial images to be produced. Etched with acid, the print is an etching. Mainly monochrome, it can develop shades of gray by the aquatint process, or contain colors by hand coloring or the use of colored inks.
The workshop offers you its unique artistic prints on different media: badges, notebooks, postcards… but also portraits, greeting cards, birth cards, invitations to order. So stand out from the crowd and opt for a unique and original creation to share the great moments of your lives!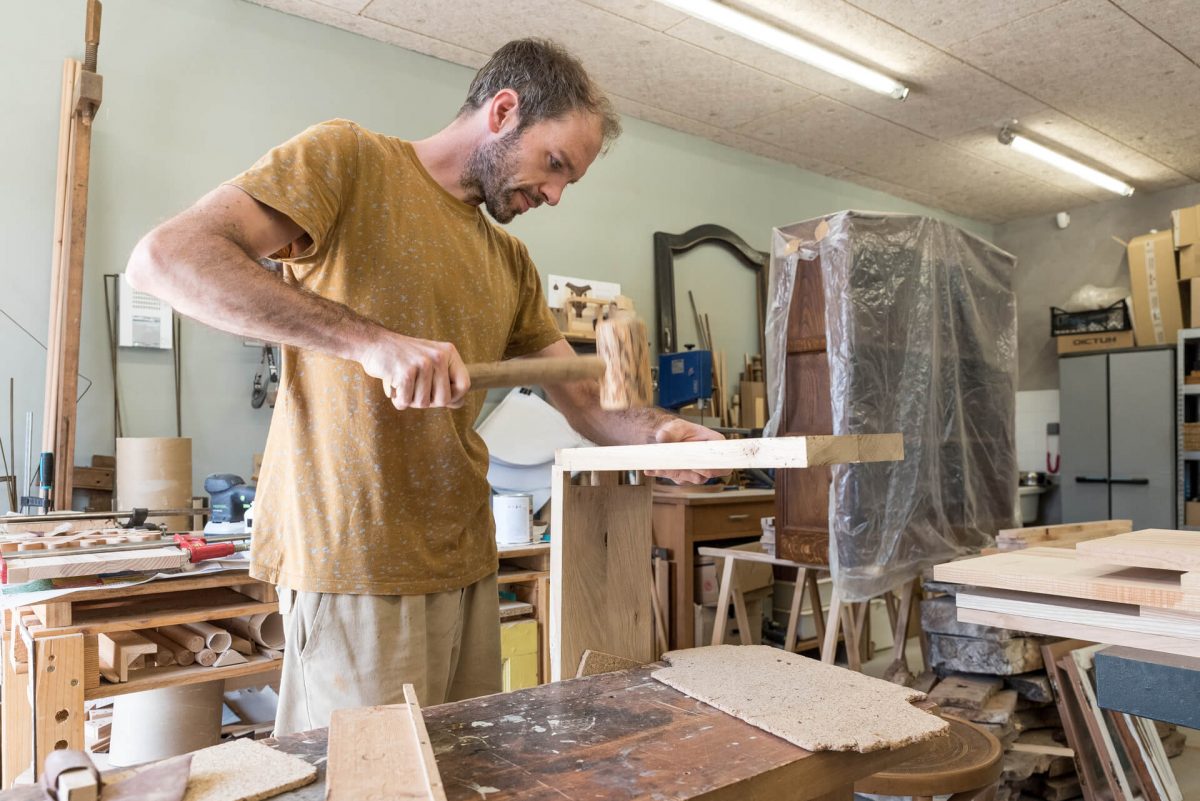 Jean-Sylvain Masse
L'Orée du Bois: Cabinetmaker
A workshop, machine tools, smells of wood and wax: welcome to L'Orée du bois! Here, Jean Sylvain Masse creates and manufactures unique pieces and small series of wooden objects including furniture, decorative objects and lighting. The pieces are made with a concern for authenticity and durability, favoring regional wood species (beech, ash, oak, walnut). In a recycling process, the workshop also uses wood from a resource center as well as materials such as cork, straw and paper to compose a warm universe with minimalist influence. The finishes used are natural (linseed oil, ecological hard oil) to respect and emphasize the aesthetic qualities of the material.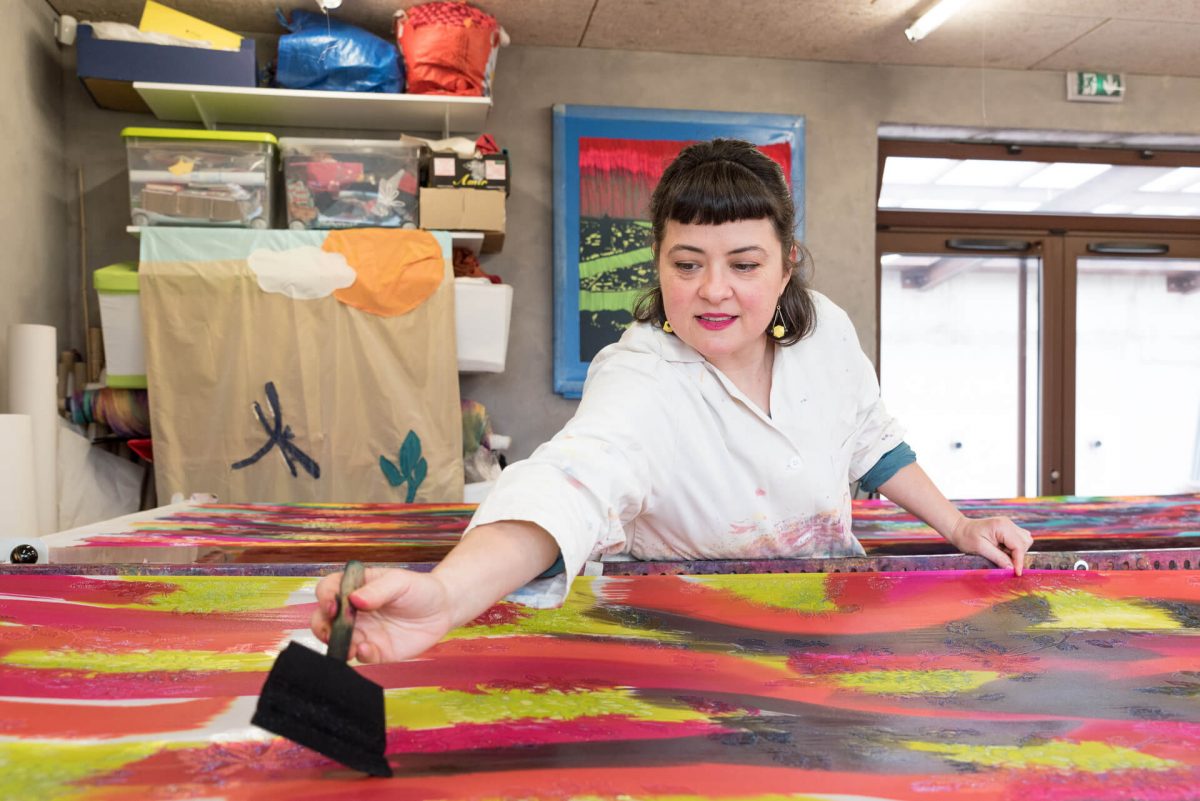 Emilie Moussiere
Les Fils d'Emilie: Textile refiner
Émilie Moussière paints mainly on silk pongee, smooth and shiny, silk muslin, transparent and vaporous, and woolen cheesecloth using a cotton ball that she shapes into a cone. The dyes she uses are very liquid and tend to fuse. His gesture must therefore be quick and light to achieve finesse in the drawing. She makes scarves for the Lyon silk industry. In addition, she also paints very sharp fabric for the haute couture of Paris and the north. For individuals, she also creates textile objects for interior decoration, mobiles, accessories, silk scarves, brooches. A fresh and colorful universe for all those who love fibers and fantasy!
The key numbers
4 arts and crafts workshops,
1 arts and crafts shop,
2 exhibition halls.
Highlights
La Cure, an arts and crafts center, is a cultural facility for Roannais Agglomeration. Each year, from March to November, three exhibitions are held. The principle: discover materials and know-how (pottery, textiles, basketwork, felt, metal, wood, etc.) with crafts guests from here and elsewhere.
European days of crafts : in April, meet the craftsmen in their workshops!
Biennial of Creative Jewelers : every 2 years, in November, exhibition-sale fair dedicated to jewelry and its creators. Find out more
What if you had to buy an item?
Follow the advice of Anaïs, communications officer at La Cure. She will be able to advise you in your purchases, you can trust her.
Handmade fairs / greeting cards by BisCotte,
A wool stole or a silk scarf at Les fils d'Emilie,
A made-to-measure glass roof at l'Enfer Métallerie,
A stool of incredible finesse at l'Orée du Bois,
An internship to learn intaglio engraving or silk painting.
Roannais Agglomeration offers you an exceptional documentary that will take you to discover the arts and crafts center of La Cure. Through 4 episodes, you will discover these talented men and women.
Key dates
2009 : Opening of the first arts and crafts workshop at La Cure. A couple of ceramists launched their activity then settled in 2011 in the village of Saint-Jean-Saint-Maurice-sur-Loire
2011 : Emmane (furniture and decorative objects in steel and porcelain) sets down her suitcases at La Cure. His workshop is now located in Roanne.
2013 : Les fils d'Emilie (textile ennobler), takes over.
2015 : A new building is built to offer 4 workshops. Emilie's sons and 2 companies settled there: Maïté Chantrel (costume designer) and the Studio du cavalier (saddlery and small leather goods).
2017 : L'Orée du bois, cabinetmaking, joins the scene.
2018 and 2019 : The Studio du cavalier and Maïté Chantrel are moving. The BisCotte intaglio engraving workshop is set up.
2020 : Metalwork Hell is setting up in turn.
Extend the fun in Saint-Jean-Saint-Maurice-sur-Loire
And if you want to go further in your discovery, why not take a guided tour organized by the association Les Amis de Saint-Jean-Saint-Maurice-sur-Loire. Take the time to discover the charming village of Saint-Jean-Saint-Maurice-sur-Loire and admire the magnificent views it offers us over the Loire.
For families, a fun game is available at the reception of La Cure. Join the adventure with Leo the little sailor.
La Cure is also a tourist information point and a shop serving all the arts. Take the time to push the door to make some more great discoveries and perhaps get a map of the village to stroll through its alleys.