What if you came to spend a few days with us? For a weekend, savor the art of living in the Roannais. A generous nature, a rich heritage and gourmet specialties sublimated by innovative chefs ... enough to concoct a stay that you will not soon forget.
Only one hour from Lyon, the Roannais is THE good surprise! A welcoming area where you can experience exceptional moments. Castle straight out of the water, renowned restaurants and unspoiled landscapes will fill you up for a weekend or more if you like.
It is here, in the heart of the Auvergne-Rhône-Alpes region, that you can recharge your batteries and recharge your batteries. So what do you think? What if your next weekend in France was in the Roannais?
Find below proposals for thematic weekends: with family, lovers, friends ...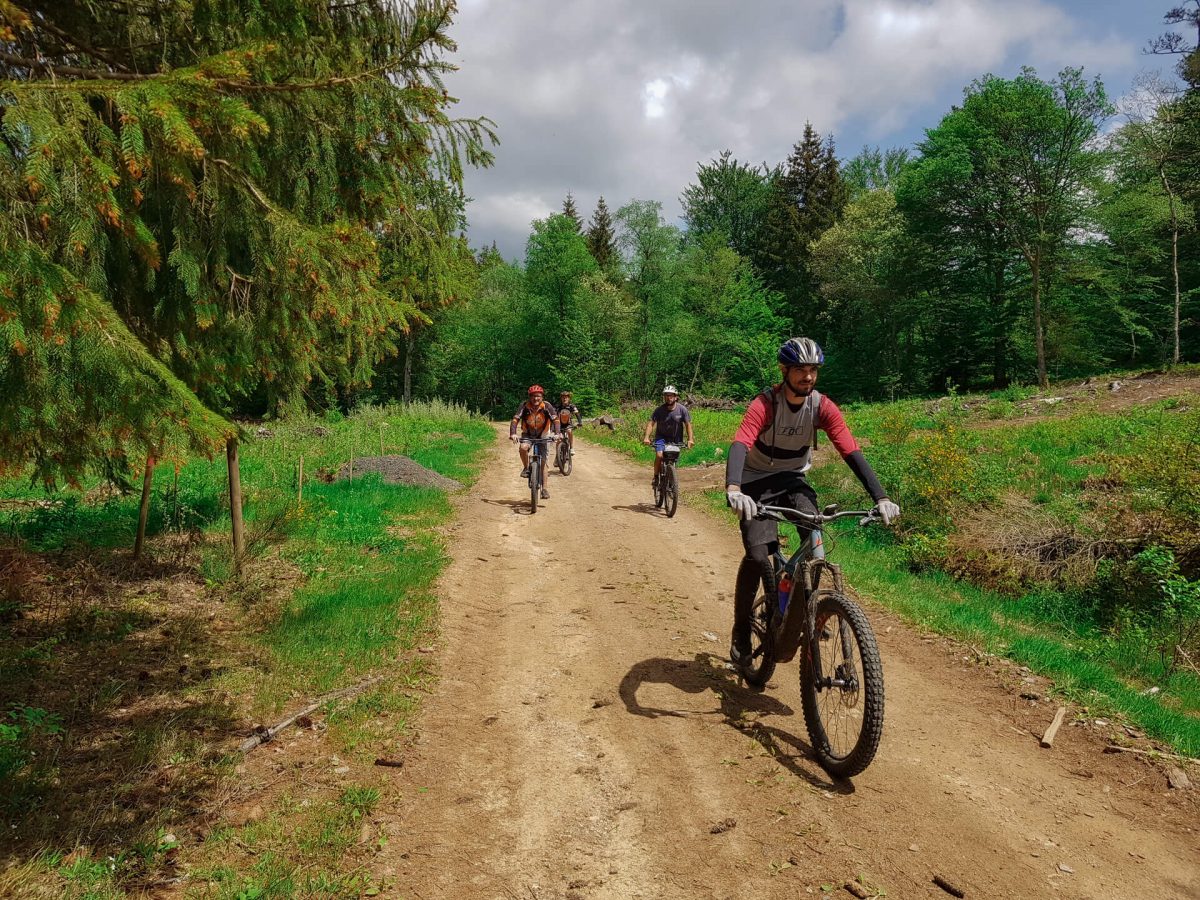 Mountain biking weekend in the Bois Noirs
3 days – 2 nights
from €195 per person*
Stay in the heart of the Monts de la Madeleine and indulge in mountain biking in the largest VTT-FFC area in France. This playground will not fail to surprise you with the diversity of the landscapes and its breathtaking views. Take a breath of fresh air in the heart of the Pays d'Urfé, in accommodation where quality and hospitality are the key words.
Notre coup de cœur: the rental of an electrically assisted mountain bike is included... so that this weekend is pure pleasure.
Included in this stay :
• Two nights in accommodation selected by us,
• Breakfasts,
• A dinner,
• Rental of electrically assisted mountain bikes for one day.
Golf weekend at the Domaine de Champlong
3 days – 2 nights
from €280 per person*
Want to test your swing in Roannais? The Domaine de Champlong is the ideal place for a stay combining gastronomy, golf and well-being. In this idyllic setting, you will discover either the compact 9-hole course or the 18-hole course. With its 70 hectares of nature, there is no doubt that this golf course will seduce you. Whether you are a novice or a seasoned golfer, you will take great pleasure in practicing in the heart of Roannais.
Notre coup de cœur: sleep in a 4-star castle and savor a gourmet dinner that will awaken your taste buds.
Included in this stay :
• Two nights in a 4-star castle,
• Breakfasts,
• A gourmet dinner,
• A green fee or 2-hour access to the Awakening of the Senses space in Paradis du Bien-Etre.
Full nature weekend in the Roannais
2 days – 1 night
from €125 per person*
Do you feel the need to take a break? Come and recharge your batteries in the Roannais with this 100% nature weekend. Comfortably installed in the middle of nature in a quality guest room or in a charming cabin, take the time to breathe and disconnect. You will see, for sure, you won't want to leave...
Notre coup de cœur: for those who wish, it is possible to add a rejuvenating activity: naturalist walk, sylvotherapy, forest bathing...
Included in this stay :
• One night in accommodation selected by us,
• A dinner.
* Rates are calculated on the basis of two people.
---
Also find below suggestions for weekends to experience in the Roannais: with family, lovers or friends.
Family weekend
Our experiences with children
The Roannais is a favorite territory for families. Take a relaxing break with your children to pedal on the Véloire or go on an adventure aboard the Train de la Loire.
Program
Romantic weekend
Our favorites for two
Want to meet up for a romantic weekend? How about a stay in the Roannais region combining well-being, a romantic chateau and villages of character ...
Program
Day 1 : Theatrical visit to Castle of Roche, have lunch in one of our restaurants, sensory experience at Le Paradis du Bien-Etre spa in Villerest
Some ideas for your overnight stay : we have selected charming accommodation for you, so don't wait any longer and discover our castles for a successful romantic getaway
Day 2 : Visit of the village of Saint-Haon-le-Chatellunch at Auberge du Vieux Crozet and digestive stroll in the characterful village of The Crozet
Weekend with friends
Our advice for a stay with friends
The Roannais is a land of excellence where it is good to meet up with friends or in groups. In the heart of France, the place is ideal for organizing a reunion weekend or a cousinade.
Program